Feb 14, 2013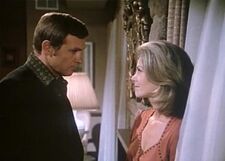 (RIGHT CLICK IMAGE TO SAVE EPISODE TO YOUR COMPUTER)
A love from Steve's past comes back into his life and the two pick up their relationship where they left off. But when the woman's husband, a scientist thought dead, turns up very much alive and wanting to be reunited, it's a battle for Steve that bionics will not help. Joining John and Paul is author Dayton Ward. Comment on the episode here or write abionicpodcast@gmail.com or call 888-866-9010 or better still use the "Send Voicemail" tab on the left of the page to leave a message via your computer.
Rating:


The Six Million Dollar Blog entry
(coming soon)
---
Dayton Ward is the author of numerous media tie-in fiction works in such realms as Star Trek and The 4400. He is also the author of such original works as Counterstrike, The Last World War, Book 2and The Genesis Protocol. When he's not writing or working for a software design firm, he's busy indoctrinating his two lovely daughters into the worlds that have so seriously warped his mind.