Sep 22, 2014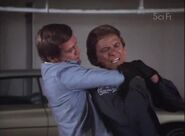 (RIGHT CLICK IMAGE TO SAVE EPISODE TO YOUR COMPUTER)
Oscar authorizes the reactivation of Barney Hiller (Miller) as an experiment to see if it is possible to deactivate and reactivate bionic units when needed. Steve objects, but it is too late.
For Barney, it's an opportunity to get back on the race track as he's lost his edge ever since his accident. When this doesn't work, Barney lashes out in frustration at his potential sponsor nearly killing him. Barney is unaware that the man survived and is blackmailed by a former OSI scientist to commit crimes.
Can Steve find Barney without doing an "I told you so" dance for Oscar and Rudy? What's the deal with the name change? And what's the deal with Rudy? These questions and perhaps a few more will be answered in this episode of Cyborgs: A Bionic Podcast.
Joining John and Paul is Time Life Six Million Dollar Man DVD Collection consultant Matt Hankinson.
Purchase the season three Universal DVD release of The Six Million Dollar Man. In doing so, you help support the podcast.
Bionic Wiki Entry
The Six Million Dollar Blog Review
(coming soon)
RATINGS: 4 BIONIC LIMBS
---
;
---
Dayton Ward is the author of numerous media tie-in fiction works in such realms as Star Trek and The 4400. He is also the author of such original works as Counterstrike, The Last World War, Book 2 and The Genesis Protocol. When he's not writing or working for a software design firm, he's busy indoctrinating his two lovely daughters into the worlds that have so seriously warped his mind.