Feb 17, 2014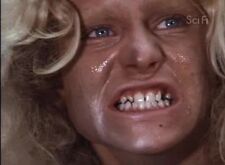 (RIGHT CLICK THE IMAGE TO SAVE THIS EPISODE TO YOUR COMPUTER)
Steve's friend, Kuroda, returns to ask Steve's help in finding a wolf boy that was spotted on the island Hoyoko. Oscar is against Steve going, but Steve has an angle Oscar can't argue with. The wolf boy may be the son of an American diplomat who died, along with his wife, many years before. Their son was never found. But there's treachery afoot as another team of hunters are searching the island for the wolf boy and they're not there to help him. What secret does the wolf boy hold?
Joining John and Paul to discuss this episode is Calvacade of Awesome author Paxton Holley.
Purchase the season three Universal DVD release of The Six Million Dollar Man. In doing so, you help support the podcast.
Comment on the episode here or write abionicpodcast@gmail.com.
Rating:



The Six Million Dollar Blog entry
(coming soon)
---
Paxton Holley was born in Birmingham, AL. He currently lives in Jaxksonville, FL. where he co-hosts the Nerd Lunch podcast as well as the Cult Film Club podcast. In addition, he writes for the pop culture/humor blog Cavalcade of Awesome where he has an ongoing series of articles on the world of bionics from the TV shows to the comics to the games.