Feb 20, 2012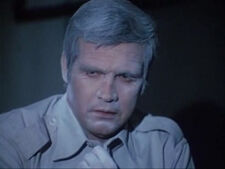 It's the first episode of the series and who better to discuss it with the boys than Star Trek author and huge Six Million Dollar Man fan (he still has his copy of The Secret of Bigfoot novelization) Dayton Ward. In this longer episode, they discuss how "Population: Zero" manages to hit all the marks of an opening episode that establishes the feel of the series. They also take an in-depth look into the iconic theme music and opening credits.
Rating:





BionicWiki entry on the episode.
Please take a moment to comment on this episode by visiting our website - http://www.chronicrift.com, writing abionicpodcast@gmail.com, or calling toll free 888-866-9010.
---
---
Dayton Ward is the author of numerous media tie-in fiction works in such realms as Star Trek and The 4400. He is also the author of such original works as Counterstrike, The Last World War, Book 2 and The Genesis Protocol. When he's not writing or working for a software design firm, he's busy indoctrinating his two lovely daughters into the worlds that have so seriously warped his mind.